KEEP TOOLS AT HAND WITH MAGNETIC TOOL PAD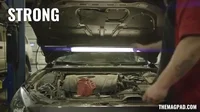 Tired of constantly picking your tools and keeping things unorganized? This Magnetic Tool Pad has a stronghold on both sides of the pad that allows you to stick it anywhere and easily put it back on your toolbox once done.
"THIS IS A GREAT PRODUCT FOR GRIPPING TOOLS THEY DON'T SLIDE AROUND. THE MATERIAL REMINDS ME OF A YOGA MAT SO IT GIVES A NICE CUSHION SO TOOLS WON'T DAMAGE YOUR NICE TOOLBOX." – MARK PETERS, AUTO REPAIR SHOP OWNER
In just 2 simple steps, you can have the tools at hand! SLAP IT. STICK IT. FEATURES
A flexible tray that holds and grips your tools while you work.
It's a magnetic pad that you can attach to anything metallic and it'll hold and cling onto your tools while you work in the garage, under a car hood and more.
You can use it on any kind of surface if you're just keeping your tools flat and want to prevent your tools from rolling away.
You can also attach it to the side of a car, on a wall, pillar, or even on the underside of a car hood to keep your tools stuck to it while keeping them in a perfect location for quick usage.
The Magnetic Tool Pad uses extra-strong magnets to hold pretty much any tool you put on it including screwdrivers, pliers, wire strippers, and even bolts, nuts, screws, sockets, nails, and more.
Plus, it makes for just about the best addition to any toolbox.
The Magnetic Tool Pad is flexible so it'll stick to pretty much any shape of the metallic surface, plus it's super strong, durable, and extra reliable.
The Magnetic Tool Pad is also scratch-resistant and will cling to a variety of different types of surfaces.
PACKAGE INCLUDES
NOT SOLD IN STORES!
ADD TO CART NOW for 50% OFF 
Please note that Shipping Time will take approximately 3-4 weeks.